Hi Folks, I am SO delighted to welcome my blogging TOS crew friend here to my blog today. Lori...thanks so much for welcoming us into your home. :)

Hi there! I'm Lori and I blog @
At Home: where life happens
. Welcome to a day in the life of our classroom. But, really, it isn't a single place or space or room. We homeschool wherever we are most comfortable and wherever we are when the conversation comes up.
Our days start off fairly benign and quiet. I get up around 7, get some tea (plain black, please), and spend some time reading my Bible in the quiet. (Right now, I am working on a 90 day reading plan for the entire Bible; I do best with a plan.) This is my sanity saver and makes a tangible difference in my day. If I miss this time, I feel it and my attitude and patience pay the price. The girls start rising around 7:30 and are responsible for their own breakfasts. They are generally required to be dressed, have eaten breakfast, and have made their beds/picked up their rooms by 8:30 or 9. We are flexible but try to keep it somewhere around there. After everyone is up and about, we get started. The girls get out their work boxes and get busy on their assignments. Both of the two older giggly girls (ages 11 and 9) have a list that they work from. Miss E has a planner that she works from and Miss L has created a list that she taped into her pencil box. They do not have a set schedule or order in which they must work. If they work steadily, they will have their work completed by lunch time or shortly thereafter. The youngest giggly girl just turned 7 and she needs a lot of direct teaching. Miss J distracts easily so I spend a lot of my time by her side, keeping her on track. She also can have her work done by lunch if she'll stick to it.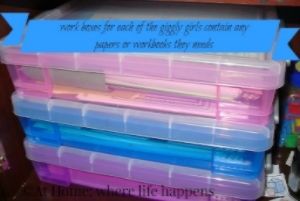 I try to ensure that the girls have all done a spelling/phonics/grammar lesson, math lesson, science lesson, and history lesson each day. They also have additional items but these are the "biggies" and kind of act as anchors for our daily work. **I would like to add a thought here about something that I try to keep in mind when working through daily lessons – relationships are massively important. Between us and God but also between each other here on earth. If lessons are not going well, we try to take a breather because frustration does not lead to good relationships. Frustration also does not lead to good learning. So, when things start going badly, we either take a break from it all or at least a break from that. Some days, it is time to just put it all away. And we do. And we try to get out in some sunshine and fresh air. Because my job from God is to love my children, not to frustrate them. So, when needed – put it all away and love each other.** We take a break for lunch and either At Home Dad or I read to them. We try to do a short devotional (this is the time that works best for the family due to At Home Dad's work schedule) and then we always have two read alouds going. Generally, At Home Dad reads to them over lunch. Right now, they are reading the Great Brain series and are working on Great Brain at the Academy. I am reading them Little Women. Both books are a huge hit, though completely different styles and subjects! Afternoons are spent in art or music practice (one is working on flute and one on violin), play time, and any errands that need to be run. This sounds so cut and dry and boring but really – it rarely looks exactly like this. Most days there is something that keeps us off track and we have to work around whatever is going on. Tuesdays the girls and I attend Ladies' Bible class at the church so schooling normally happens in the afternoons. Wednesdays the girls have dance classes at the end of the afternoons so I try to press them to be done by lunch so they can have some down time. Friday afternoons we go to the library and the art center for art instruction. We try to throw in a field trip every other week, as well. So see – keeps us on our toes.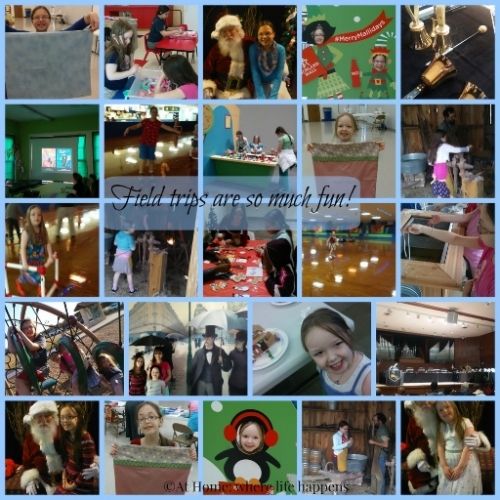 Something that shocks a lot of folks - we do not have scheduled independent reading times. This is because my girls are voracious readers. Seriously! We go to the library every Friday and the girls come away with a minimum of 30 books between the three of them. And they are generally all read. We allow them to pick whatever they want to read, though we try to point them to at least one book that relates to something they are studying, be it WWII or elections and Susan B Anthony or maps and season. Books are windows to the world and we love that our girls have found just how big that window can be!
This is a glance into our schooldays. It isn't glamorous but it is full of family and full of love and learning. We are so blessed to be able to educate our children at home. We have such fun and I learn as much as they do. Hope you enjoyed the ramble and will join me over at
At Home: where life happens
. I'd love to have you as a subscriber so you can follow our life and homeschooling journey. Thanks for reading! Lori